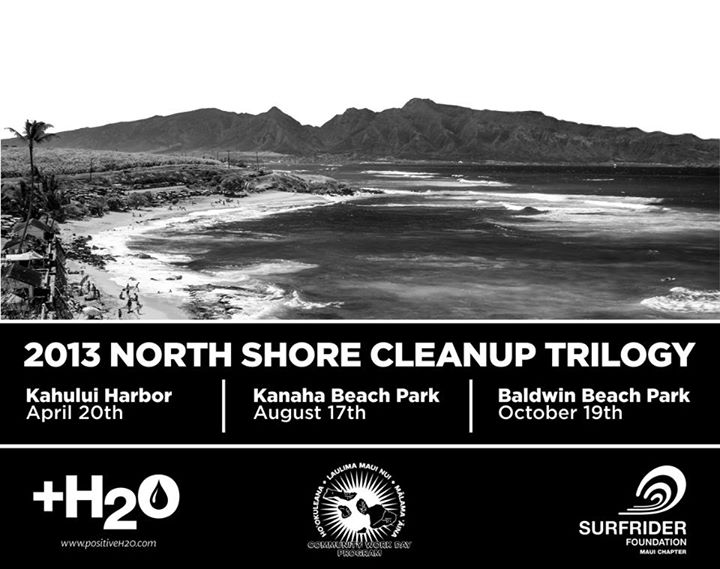 October 19th, 4th Annual Baldwin Clean Up
The third and final event of the 2013 North Shore Clean Up Trilogy.
http://www.facebook.com/events/162796423880376/
We invite you to join the movement and participate in our October Maui Beach Clean Up! Check out our first North Shore Clean Up where we removed 13,000 lbs of trash from the North Shore https://www.facebook.com/photo.php?v=450350977399
Positive H2O, Surfrider Foundation Maui Chapter, and Community Work Day invite you to join the clean water movement and participate in a clean up of Baldwin to Ho'okipa Beach Park on Maui!
This is a perfect opportunity for individuals, businesses, and community groups to gather and enjoy each others company while making a difference at the same time.
We hope you will join us and spread the word!
Event at a Glance:
Title: + H2O, Surfrider Foundation and Community Work Day, present: 4th Annual Baldwin-Ho'okipa Beach Park Clean Up
Date: Saturday October 19th, 2013
Location: Baldwin Beach Park
Clean Up: 2pm – 5pm
Free raffle prizes, First 50 people to show up will get an event t-shirt as well!!
Rob Gold of Kailash Yoga Therapy will be offering FREE yoga therapy to all volunteers from 3:30-4:30 of the Baldwin Beach cleanup. If you're back is sore from all that bending over, go see Rob and he'll fix it right up!
www.kailashyoga.org
Surfers, Windsurfers and Kitesurfers please come to clean up one of our favorite beaches and get some nice prizes donated by local watersport businesses!
Participants are asked to bring their own buckets, reusable bags, water bottle, and gloves. Free PIzza from Flatbread Pizza will also be provided as well as water.
Contact:
info@positiveH2o.com
chair@maui.surfrider.org
Social Links:
www.positiveh2o.com
www.surfrider.org, https://www.facebook.com/positiveH2O,
https://www.facebook.com/SurfriderMaui?ref=ts